Intelligent Content roars into its third successful year!
Welcome to Intelligent Content 2011 - All Things Delivered.
Itís all about delivery. You may have the most exciting content in the world, but if you canít deliver it in a way that is accessible, useful, relevant, timely and cost-effective, it has no value. Intelligent content is content that has been consciously designed to be open, reusable, and reconfigurable Ė adapting dynamically to fit the unique needs of both producers and customers.
Delivery means so much more than printing today; it includes traditional printing, yes, but it also includes all forms of online and mobile media. And itís not just words; itís sound, itís animation, itís interactive.
Intelligent Content 2011 is all about getting your content delivered to your customer, no matter where they are, or how theyíre experiencing it.
If getting your information out to your customers is your focus, intelligent content makes sense for you. Check out the conference website for more information.
Thanks to all who attended Intelligent Content 2010.
We hope to see you in 2011 for the third Intelligent Content Conference in February 2011. Follow us on twitter or join our community and receive the latest updates from the Rockley Group.
Intelligent Content 2010 is on the way!
Intelligent Content 2010 will be held on February 25 - 26 at the Parker Palm Springs Hotel.
We've lined up Gabor Fari of Microsoft and Bob Glushko of the University of California at Berkeley as our keynote speakers for the conference.
Our conference website is up, and we have a full slate of presenters ready to go. Please visit us at IntelligentContent2010.com for a complete list.
New Rockley Group Publication - DITA 101
If you're in the process of implementing DITA, expect to do so in the future, or just want to learn more about it without having to wade through technical specifications, this is the book for you.
DITA 101 is designed for authors and managers. Weíve taken our years' of experience helping organizations to move to DITA and training our clients in creating DITA content and distilled it into an easy to read and understand format. Combined with our expertise in developing effective reuse strategies and adopting content management, this book covers everything you need to know to understand DITA from an authors or managers viewpoint.
Now available at Lulu.com! Click here to order!
Not sure? Want a peek inside? Click here to get a copy of Chapter 3, Reuse: Todayís best practice.
We've released the second edition of the XML & Component Content Management Report.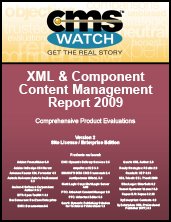 Brought to you by CMS Watch (www.cmswatch.com) with analysis by The Rockley Group (www.rockley.com), this Report provides you with essential background to understand the CCM space and to make the best decision for your organization when choosing a CCM system.
Document management isn't good enough anymore. Today we need to be able to track the creation of individual pieces of content through their entire lifecycle. We need the content to be intelligent. Intelligent content is not limited to one purpose, technology or output. It's structurally rich and semantically aware and is therefore automatically discoverable, reusable, reconfigurable and adaptable. And intelligent content isn't just a future, it's possible now.
But in order to create and manage intelligent content, you need a Component Content Management system. Unlike a traditional Document Management System, which tracks and manages completed documents, a Component Content Management (CCM) system manages content at a granular (component) level of content rather than at the page, chapter or document level. If you need to be able to track your information at a truly detailed level, a CCM may be in your future. There are a wide variety of tools available, each with a slightly different focus, and each with their own strengths and weaknesses. There is no tool, however good, that will meet everyone's needs.
The Report will help you learn the key concepts of Component Content Management, the importance of structure, how different tools work with others, the importance of XML and DITA and how you can best turn the capabilities of the tools to your advantage. We've examined and evaluated twelve major CCM suppliers, six prominent XML Editors and seven XML capable publishing tools - looking for their strengths, weaknesses and individual idiosyncrasies that can make or break them in your organization.
In addition to the detailed product comparisons, the report explains how you can use Scenario Analysis to better understand your needs, and to smooth the process of choosing a CCM system. And there's an extensive section containing specific advice on what to do (and not to do) when choosing and implementing a system.
The report has been designed with multiple audiences in mind, so whether you're a Project Champion, Project Manager, Project Engineer or Consultant / Integrator you'll find that the information has been organized so that you can quickly find what you need.
This year the report found that XML is truly crossing into the enterprise:
IBM is building a strategic presence witnessed by its recent integration of DITA with IBM FileNet Content Manager in partnership with Quark XML Author
Microsoft has signaled an interest in the space with the promotion of Intelligent Content Framework
Open Source options are now available through Alfresco via DocZone and Componize
Adobe and Quark have moved publishing from technical XSL-FO to high end digital media delivery
EMC and Mark Logic have taken content retrieval to new levels with intelligent XQuery and dynamic delivery
To purchase your copy, or to see a sample excerpt visit the Report page at CMSWatch.
Thanks for joining us for Intelligent Content 2009
You've told us that the inaugural Intelligent Content conference was a resounding success!
With a full slate of interesting, dynamic (and sometimes provocative) speakers, we learned how people are actually putting intelligent content into practice. We learned from the actual practitioners about the challenges and rewards of getting it right.
Our thanks to the presenters, and of course to the attendees who made it such a success.
We're looking forward to next year, and hope you are too!
Whitepaper - The Emergence of Intelligent Content
Joe Gollner, of Stilo International has released a new whitepaper entitled The Emergence of Intelligent Content. In this paper he explains why we can now talk about 'intelligent content' and the evolution of the technologies that make that discussion possible. Get the whitepaper here.
Whitepaper - What is intelligent content?
Ann Rockley describes what we mean when we talk about Intelligent Content, how it's used, and who is using it. Get the whitepaper here.